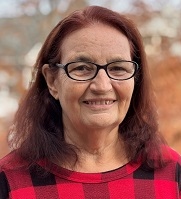 MiOTA Member Spotlight:MARY ELLEN EAST, MS, COTAL, ROH
Happy New Year to our members!
Our member spotlight this month is Ms. Mary Ellen East, MS, COTAL, ROH. Mary Ellen is now a retired member of MiOTA. She was part of the Faculty at Baker College at Allen Park. She also served as the Academic Fieldwork coordinator of that program. She also instructed part time at Mott Community College for 15 years. She has also taught at Macomb County College and Wayne County Community College District. As a clinician, she has worked both in mental health and long term care settings.
Mary Ellen earned her Occupational Therapy Assistant Degree from Schoolcraft College located in Livonia, Michigan. She earned her Bachelor of Science Degree from Siena Heights University and her Master of Science Degree from Madonna University.
She enjoys reading, traveling, and shopping. She, currently, is a caregiver for a 90-year-old individual at an independent living facility.
Mary Ellen was drawn to the field on a recommendation for a friend who was a nurse. However, once she joined the program, she says, "I knew I was in the right place, the fact that I might be able to help someone regain function or establish a new normal was what I wanted to do." She hopes that she has influenced / helped others, but believes that "every client, former student, colleague and mentors have helped me become the COTA I am today!"
Mary Ellen has contributed to several projects both nationally and internationally. She was part of a Therapy Mission Program to serve the people of Honduras. It was a fulfilling project which she says, "It was one of the highlights of my career". Currently, she is working with the MOT students from WSU on research related to caregivers and how they perceive their role. She has presented on several topics at Annual conference of MiOTA conference including OT/OTA collaborations, putting occupation back into practice.
Mary Ellen has been very active in both AOTA and MiOTA. She was on the AOTA Board of Directors (2010-2013). She has actively contributed to the AOTA for several years, being on several committees including the "member recognition committee" and being reviewer for conference abstracts. She served on the ACOTE for 7 years. She has been involved with MiOTA since she was as student. She has chaired several committees and co-chaired the Annual conference of MiOTA Committee. She believes, "While membership is voluntary, I believe it is a professional responsibility to belong to both National and State associations. It is a way to stay updated on health care changes, network, and obtain PDUs".
If you would like to be highlighted or would like to nominate a MiOTA member, please email us at
website@miota.org
or to Ray Roche at
renukaroche@gmail.com