Welcome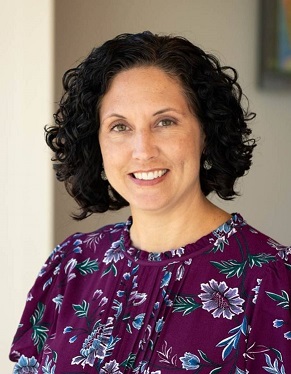 BREANNA CHYCINSKI, OTD, OTR/L, PNAP
Dr. Breanna Chycinski received her Master of Science in Occupational Therapy (MS), degree in 2004 from Grand Valley State University and post-professional Doctor of Occupational Therapy (OTD) in 2020 from Eastern Kentucky University. After graduating with her MS in Occupational Therapy, she started her career as a school-based OT for Thornapple Kellogg Public Schools. After 9 years there, she worked for the Grand Rapids Public Schools before transitioning to academia at Grand Valley State University.
When she is not at work, she enjoys spending time with her husband of 20 years, two children (ages 18 and 19), and two dogs. As a family, they love taking road trips and seeing the beautiful National Parks. Breanna reminisces about her trips saying, Last year, we went to Zion, Bryce Canyon, and Arches. This year, we drove through 10 states to see Mount Rainier, Olympic, and Theodore Roosevelt National Parks (in addition to many other amazing sites!).
Breanna started her college career wanting to be a physical therapist. However, she exclaims, I was fortunate to have had the opportunity to observe an OT in a school during a summer I returned home. I instantly fell in love and knew I had to switch my major (and schools)!! This was also when I developed a passion for school-based OT.
Breanna's most recent major accomplishment was the publication of her doctoral capstone work in the Journal of Occupational Therapy education. She says, My project focused on the development and piloting of online learning modules for fieldwork educators. I wanted to create modules that therapists could access for free from their homes at a time convenient to them. The purpose was to increase the perceived level of preparedness of fieldwork educators. Publication can be found here: https://doi.org/10.26681/jote.2023.070216.
Since January 2023, she has been actively involved in MiOTA as a webinar moderator. She states, It has been a great way to hear about some of the innovative work colleagues have been doing across the state. Breanna believes there are many benefits to being a MiOTA member, however she greatly appreciates access to free continuing education, updates on advocacy work and changes taking place in OT not only in the state of Michigan but also nationwide.
If you would like to be highlighted or would like to nominate a MiOTA member, please email us at:website@miota.org