MiOTA - Research

Opportunities for OT Practitioners to Support and Participate in Research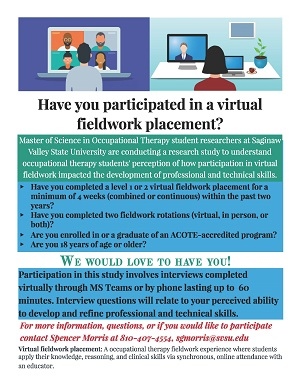 Hello! My name is Spencer Morris and I am a student in the Master of Science in Occupational Therapy (OT) program at Saginaw Valley State University. My team and I are conducting a research study to understand occupational therapy students' perception of how participation in virtual fieldwork impacted their development of professional and technical skills. We are looking for occupational therapy students who are currently enrolled in or a graduate of, an ACOTE- accredited OT program who are 18 years of age or older. Study participants must have completed two fieldwork rotations, with at least one being a virtual fieldwork rotation that lasted a minimum of four weeks (total or continuous). Study participants will be asked to participate in a telephone or MS Teams interview lasting no longer than 60 minutes. Questions will focus on how their participation in a virtual fieldwork placement affected their ability to develop and use skills such as problem-solving, communication, and hands-on skills. Please consider forwarding this flyer to occupational therapy students and/or recent alumni within your occupational therapy program.
Thank you for your time,
Spencer Morris
OCCUPATIONAL THERAPY GRADUATE STUDENT
SVSU SOTA CONFERENCE CHAIR
SAGINAW VALLEY STATE UNIVERSITY
Dear Therapy Practitioners/Students,

As part of the curriculum in the Allen College Master's of Occupational Therapy program, students are required to participate in a faculty-led terminal research project. The purposes of this study are to 1) identify the perceived benefits of participating in advocacy as an occupational therapy student and 2) determine the relationship between hands-on legislative experiences and perception of advocacy competency. The study will focus on understanding the views of individuals who have participated as students in hands-on legislative experiences.

In order to participate in this study participants must be a licensed OT, OTA, OT student, OTA student, retired OT, or retired OTA in the United States. By completing any part of the survey, participants are consenting to participating in the research study. This study consists of two parts, the first is no more than 20 questions, and the second is the Advocacy Competencies Self-Assessment (ACSA) Survey©; used with permission by Dr. Manivong J. Ratts. Completion of the combined surveys is expected to take 15-20 minutes of your time. Participating in the study is voluntary. Researchers will not be able to identify any participant. There is no compensation for responding nor is there any known risk. You may choose not to take part in the study or stop participating at any time, for any reason, without penalty or negative consequences; however, due to the method of data collection, there will be no way to delete portions of the study. You cannot skip any questions. By clicking the link to the survey, you are consenting to participating in the research study.
Link: https://tinyurl.com/rfzzrpry

You are encouraged to ask questions at any time during this project. For further information about the project, contact me, as the principal investigator at (319)-226-2522 or Steven.Bowen@allencollege.edu. This study has been approved by the Allen College Institutional Review Board. If you have questions regarding your rights as a research subject, or if problems arise which you do not feel you can discuss with the investigator, please contact ACIRB@allencollege.edu.

Thank you again for your time and consideration in assisting us with this important research.

Sincerely,

Steven Bowen, OTD, OTR/L, CAPS
Assistant Professor, Occupational Therapy Program
---

Hello OT Students,
Please consider participating in a study titled, "Understanding Occupational Therapy Admissions Decisions Related to Diversity." Increasing the diversity in occupational therapy professionals is a priority in order to enhance the quality of care we are able to provide. This study aims to understand how occupational therapy graduate school admission criteria impact admissions decisions across diverse applicants. Particular criteria of interest include the General Records Examination (GRE) and interview format.
To further explore this issue, we would like to invite you to participate in this survey to understand how admissions criteria have influenced what schools you chose to apply to, and what school you ultimately chose to attend. The research team is seeking current students in graduate programs to explore factors contributing to the lack of diversity in the field of occupational therapy.
You are eligible for participation in this study if you are a current occupational therapy graduate student (MOT, OTD). The surveys are anonymous, and your personal information will not be collected for this study.
The completion of the survey should take approximately 10-15 minutes. Your responses to the survey will remain anonymous. No identifying information will be collected. You will not be paid for being in this study. Your participationis voluntary, and you may stop the survey at any time.If you choose not to participate in this study or to leave the study at any time, your health care, benefits or relationship at Rush University Medical Center will not change or be affected.
You can find the survey here: https://redcap.link/OTadmissions
Please forward this to other occupational therapy students. We would love to get their input as well!
If you have any questions, please feel free to contact Linda Olson, PhD, OTR/L, FAOTA, Assistant Professor at Rush University at Linda_M_Olson@rush.edu. Questions about the rights of research participants may be addressed to the Rush University Medical Center Office of Research Affairs at 1-800-876-0772.
Thank you for your time!
Linda Olson, PhD, OTR/L, FAOTA (she/her/hers)
Chair/Program Director, Department of Occupational Therapy
P: (312) 942-7109 | Linda_M_Olson@rush.edu


---
Hello! We are Master of Science in Occupational Therapy students from Saginaw Valley State University working on our Capstone research project. We are conducting a research study exploring the steps and opportunities in which occupational therapists have engaged in order to treat the transgender and non-binary community effectively. We are seeking to conduct interviews with licensed occupational therapists who have experience working with the transgender and non-binary community and feel competent in treating members of this population. More information can be found on the attached flyer. If you have any questions or are interested in participating in this study, please contact the research team through Rachel Daley (586) 438-6204; rmdaley@svsu.edu. Please see our flyer.

---
My name is Nina Leacock and I am an OT student at Rocky Mountain College. I am looking for currently licensed occupational therapists to complete my survey. My research is titled "Has limited curriculum in OT programs nationwide affected occupational therapists' ability to address sexual activity, sexuality, and intimacy with clients in practice?". Your responses will contribute to potential curriculum design, reaching the academic audience to promote inclusion of sexual activity, sexuality, and intimacy. If you are a currently licensed OT and have 10-15 minutes, I would greatly appreciate your input! Additionally, if you know of other OTs willing to complete this survey, please feel free to forward on this email. Thank you for your time and responses! Please see the link below:

https://rmc.sjc1.qualtrics.com/jfe/form/SV_0iGrIG4OXWEHpFc

---

My name is Tabitha DiBacco and I am a clinical psychology doctoral student at Western Michigan University. I am writing to ask if you would be willing to share information about a research study I am conducting with healthcare workers. The goal of the research is to better inform resources for healthcare workers during widespread health crises. Please see our flyer.

Non-administrative, clinical employees in medical facilities are eligible for the study. This could include hospitals, nursing homes, skilled nursing facilities, outpatient primary care locations, urgent care centers, assisted living facilities, and other locations. Participation includes attending three, one hour research sessions and completing 8-11 surveys over a period of 15-17 weeks. It is expected this will take between 6.5 to 8 hours in total. This intervention study has been approved by Western Michigan University's Institutional Research Board.

If you would be willing to share information about the study, I have attached a study flyer that can be shared by email or posted on social media.

If you have any questions about the study, I would be more than happy to share further information about it.

Sincerely,

Tabitha DiBacco, M.A., TLLP
Clinical Psychology Doctoral Candidate
Western Michigan University
---

Our research team is exploring therapist-client discussions around meaningful activity.We hope to learn more about the practices and challenges of these conversations in order to better equip Occupational Therapists for practice.Your 10-15minutescan help us do that. Please click the link below to take a quick survey describing yourroutines and challenges during discussions about meaningful activity: https://www.surveymonkey.com/r/SJMRQZV
If you have any questions or concerns, pleasecontactiwuresearch2021@gmail.comfor more information. Thank you for your participation and time.
Best,
Melissa Khosla, OTD, OTR/L, Ivy Evatt, OTS, Sarah Glaze, OTS, Ciera Tuozzo, OTS, RachelVogler, OTS
---

We are student researchers in the entry-level doctorate program from Western Michigan University's Occupational Therapy Department. We have created a survey that aims to examine the understanding of practicing occupational and physical therapists regarding the policies and service delivery processes that are involved when we recommend wheelchair seating and positioning equipment for our clients in the United States.

We hope that all practitioners will take this survey – those that are regularly involved in recommending wheelchair seating and positioning equipment, and those that never complete this task. The survey will help guide education to increase confidence and awareness with the service delivery process – which will help us advocate for our clients! Everything will be kept completely anonymous and your name will in no way be attached to your response.

If you agree to participate, please click the link below. If you have any questions or would like more details of the study, please email Cara Masselink at cara.masselink@wmich.edu. Please share this with other physical and occupational therapists.

Survey link: https://wmich.co1.qualtrics.com/jfe/form/SV_1O1WJh2vy5rflcO

Thank you and have a great day!

Megan Morrill, Caitlin Cornish, Kerri Lindeman, Mallory Fox (WMU OTD research group)
Cara Masselink, PhD, OTRL, ATP (faculty mentor)

---
We are Western Michigan University OTD students recruiting participants for a 3-minute survey. We are exploring the
Impact of Patient Driven Payment Model (PDPM) on Occupational Therapy Services in Skilled Nursing Facilities (SNFs).
Please access the survey using this link:
https://wmich.co1.qualtrics.com/jfe/form/SV_1ZCPyp34bJnoKTI
---
If you're interested in recruiting participants for your research study by posting on this webpage and MiOTA's facebook page, please let us know by clicking here.
Updated 9/14/2021