Student Advocacy
Advocating: The Impact of a Student Voice
The purpose of Student Advocacy Videos is to provide an opportunity for students to share their voice. We are living in a world where it is common to use videos, images, and online content to explore, learn, and understand information.
We invite MiOTA members and non-members to create, watch, and share these videos to advocate for occupational therapy.
Share with other professionals, consumers, and the community
Share with high school students to expose them to the profession of OT
Share with insurance providers to increase understanding of the profession and scope of practice
Watch and get inspired to advocate
Seven student advocacy videos have been submitted from students throughout Michigan OT/OTA programs!
---
Student Advocacy Video Submissions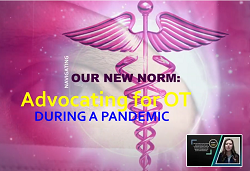 Baker College Graduate School - Alyssa Jenkins and Olivia Maurer: https://youtu.be/F9dG32_1uHw
Saginaw Valley State University - Aubrey Hausig and Sydney Glenn: https://youtu.be/tyVem19OBsY
Saginaw Valley State University - Spencer Morris and Professor Jill Brown: https://youtu.be/vkppsK0sVgs
Western Michigan University - Katie Schmidt, Madison Charlton, Elaine Volpentesta, Kylee Wahl, Cydne Johnson, Dylan Pritel: https://youtu.be/OMPGdPCLkKg

Grand Valley State University - Isabelle Wolf and Shannon Metzger, Video Creator/Producer: Macie Zack https://youtu.be/3lenNjNyVfw

Saginaw Valley State University - Kaely Harmer, klharmer@svsu.edu https://youtu.be/BubPunFDnGc
Saginaw Valley State University - Dustin Hill https://youtu.be/l-b2iLiBSjY