MCC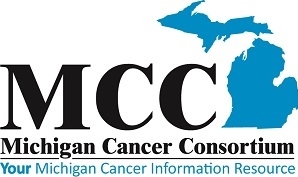 The Michigan Cancer Consortium (MCC) is an organization who provides a forum for collaboration among its members to improve cancer outcomes for Michigan residents. It also provides resources to clinicians and patients to educate and improve treatment and enhance quality of life.
---

My name is Marion Roehrig, and I am the new Michigan Cancer Consortium (MCC) MiOTA representative and Sheila Longpré is the new alternate representative. I have worked in acute care in Toledo, OH, and now I am working with Ypsilanti Community Schools with preschool and elementary students. Additionally, I have volunteered as a committee member for the University of Michigan Rogel Cancer Center Survivor Celebration for more than 8 years. Sheila is an Assistant Professor at Eastern Michigan University, and has 20 years of experience working in Oncology. We attended the June 2021 MCC quarterly meeting, during which there were three areas of interest for OTs: (1) a study regarding pandemic-related factors affecting cancer screening and preventive care, (2) updates from the late-stage breast cancer Priority Work Group, and (3) a new website.
The keynote speaker for this meeting was Dr. Hayley Thompson, PhD, of Wayne State University and Karmanos Cancer Institute. Dr. Thompson presented on the findings of her qualitative study, Factors Affecting Cancer Screening and Preventive Care during the Pandemic which engaged twelve adult, African American women of southeast Michigan, divided into two focus groups--one with the younger participants and one with the older participants. Themes identified in the study included: (1) increased stress/feeling overwhelmed, (2) clinical insufficiencies (e.g., staffing changes, clinic closures/uncertainty of reopening), (3) attention to preferred care conditions (e.g., adherence to CDC recommendations, patient flow procedures, changing care providers), (4) availability of in-person appointments (e.g., clinic closures, extended delay for available appointments) (5) increased social tension (police violence, BLM movement), and (6) racial bias (increased effort to obtain care). Participants in the study reported that virtual/telehealth visits had a positive impact in being able to see preferred providers with greater accessibility. The study participants stated that increased frequency and clarity of communication would have a positive impact on screening and prevention moving forward in regard to the pandemic, and for updated cancer prevention, screening, and treatment recommendations.
Other updates included the Priority Work Group and website transition. The Priority Work Group, which is focused on decreasing late-stage breast cancer diagnoses in Michigan, is in year one of a three-year effort and has laid out the majority of a plan to increase education and screening access in several counties, and is currently finalizing the plan for presentation and approval. The MCC is moving to a new website within the MDHHS, which is in progress--you may visit the site at https://www.michigan.gov/mdhhs/0,5885,7-339-71550_2955_2975_3160-555305--,00.html The transition's purpose is to comply with policy, and is focused on increased accessibility. There is not a final date yet for the closing of the former website.
If you have any questions regarding the MCC or this update, please feel free to contact me, Marion Roehrig MOT, OTRL or Sheila Longpré PhD, MOT, OTR/L.

Updated 7/13/2021