MiOTA - Annual Scholarship

Now accepting applications for the 2021 MiOTA Student Scholarship!

The MiOTA annual scholarship ($500) will be awarded to one student per year. In order to be considered for this scholarship you must exhibit leadership qualities, and demonstrate a commitment to the profession.

Students must meet the following criteria:
Be enrolled in an accredited occupational therapy program in the state of Michigan

Be a MiOTA member

Have a minimum 3.0 GPA average

Be in involved in a student professional organization, participate in activities of your educational institution, or demonstrate community involvement
Instructions (please read carefully):
Complete all sections of the MiOTA Scholarship Application.

Use only the space provided (250 words or less) to answer application questions.

Read and sign the bottom of the application on the last page.

Enclose a copy of your current resume or CV with your application.

Submit your completed application and resume/CV by the deadline of December 15th, 2020 to office@miota.org.

For questions, please contact the MiOTA office at (517) 267-3918 or email office@miota.org.

---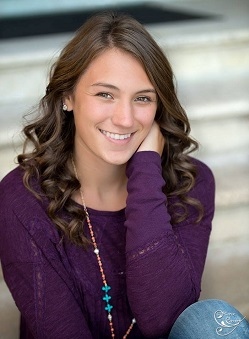 Congratulations to Caitlin Koob for earning the 2020 MiOTA Student Scholarship!


The 2020 MiOTA Student Scholarship Winner is Caitlin Koob, a Western Michigan University (WMU) occupational therapy student. The MiOTA student scholarship is granted to a student who exhibits leadership, a commitment to the profession through involvement in MiOTA and AOTA; and community engagement. Caitlin's dedication to serving the profession of occupational therapy is seen through her past involvement as an executive board member of the WMU Student Occupational Therapy Association (SOTA-Kalamazoo), managing the organization's finances; and MiOTA and AOTA memberships. Caitlin's dedication to community service is evident in her volunteer work with with numerous organizations: AMBUCS Club, Young Life, Allie the OT Nonprofit Organization, Shirely Ryan AbilityLab, Michigan Autism Conference, and Bronco Buddies.

Caitlin has a passion for research to advance the profession of OT. She assisted Dr. Amy Wagenfeld and Tracy Young, professors at WMU, with pediatric research. Caitlin presented her work on "An Analysis of the Occupational Enrichment of the Seattle Children's PlayGarden" at the MiOTA annual conference in Frankenmuth in October 2019 and will be presenting the same work as a poster at the AOTA national conference in Boston in March 2020. She also assisted Daryl Lawson PT, DSc, from WMU, on research projects involving the assessment of the effect of transcutaneous electrical nerve stimulation on people with muscle fatigue, knee osteoarthritis, and chronic knee pain.

Caitlin is currently completing her first Level II fieldwork rotation with the Mary Free Bed Hospital inpatient rehabilitation team and will complete her second Level II Fieldwork rotation with Chicago Occupational Therapy's pediatric team. After graduation from WMU in June 2020, she will start Clemson University's PhD program in Applied Health Research and Evaluation (Clemson, SC) in September 2020. Caitlin was offered a graduate assistant position to help Dr. Sarah Griffin with a Centers for Disease Control funded research project on obesity prevention initiatives in rural areas in South Carolina. MiOTA wishes Caitlin the best of luck in her future studies, research, and service to the profession of occupational therapy.

---