Annual Scholarship
The MiOTA annual student scholarship ($1,000) is awarded to two students on an annual basis, one OT student and one OTA student. In order to be considered for this scholarship, the applicant must exhibit leadership qualities and demonstrate a commitment to the profession.
---
Students must meet the following criteria:
•
Be enrolled in an accredited occupational therapy program in the state of Michigan
•
Have a minimum 3.0 GPA average
•
Be in involved in a student professional organization, participate in activities of your educational institution, or demonstrate community involvement
• Applicants must be MiOTA members and can not apply if currently finishing Level II Fieldwork in December 2023.

Scholarship application instructions:
•
Use only the space provided (250 words or less) to answer application questions.
•
Read and sign the bottom of the application on the last page.
•
Enclose a copy of your current resume or CV with your application.
• Recipients will be determined by February 1st, 2024
.
For questions, please contact the MiOTA office at (517) 267-3918 or email
office@miota.org
.
Congratulations to our 2023 Student Scholarship Winners!
Shanmin Sultana (she/her) is a first year occupational therapy student at Wayne State University (WSU). She serves as her program's Coalition of Occupational Therapy Advocates for Diversity (COTAD) PY1 co-chair and Student Occupational Therapy Association (SOTA) PY1 AOTA representative. She is also a student volunteer for the American Journal of Occupational Therapy (AJOT) where she designs research briefs to simplify occupational therapy research and help make research more accessible. She hopes to specialize in pediatrics and eventually teach at the graduate level.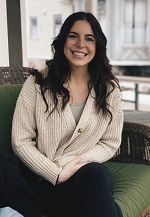 Sydney VandenHout (she/her) is a first-year student in the Occupational Therapy Assistant program at Grand Rapids Community College. Sydney is engaged in her community by working with infants and toddlers, specifically focusing on their education, play, and fine/gross motor skills. She has been a teacher's aide and caregiver for more than 6 years, investing most of her time with this age group. Sydney's career aspirations are working in pediatrics, either in hospital or school settings. She looks forward to learning and growing with her fellow students, as she continues schooling and soon fieldwork opportunities.
MiOTA Student Scholarship Committee:
Mary Ellen East
Kim Pace
Angeline Bayci
Sara Clark