MiOTA - Annual Scholarship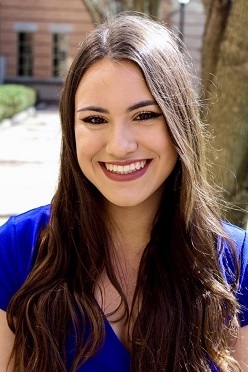 Congratualtions to Michelle Roldan for earning the 2021 MiOTA Student Scholarship!

Michelle is a second year OTD student at the University of Michigan-Flint. She graduated from Grand Valley State University (GVSU) with her bachelor of science in psychology. During her time at GVSU, she founded and ran the It's On Us as Lakers student organization, which aimed to educate and spread awareness on sexual assault, domestic violence, consent, and bystander intervention, and co-developed a consent-ed/sex-ed curriculum for 11th and 12th graders. Now at UM-Flint, her special interest area is studying occupational therapy's role in working with survivors of abuse and trauma, and Michelle hopes to continue to shine light on this emerging practice area of occupational therapy.
Michelle is the former Vice President of the Student OT Association at UM-Flint. Michelle has a strong passion for cultural competence and social injustice pertaining to racism and ableism. Michelle is dedicated to learning what we can do to create true, long-lasting change at individual, communal, and systemic levels. Michelle is a member of a volunteer faith-based racial reconciliation small group whose members volunteer both at a local warming shelter and with disadvantaged 2nd and 3rd graders facing poverty advancing their literacy skills.
MiOTA has been a space where Michelle truly feels like she can learn so much about the broad field of occupational therapy, including specialty and emerging practice areas! Michelle has had the privilege to speak at two conferences for MiOTA. In April of 2020, Michelle co-presented on "Recognizing Signs of Abuse" at the Flint Chapter meeting, and in September of 2020 she presented on "Recognizing Signs of Abuse and What We Can Do About It" at the MiOTA annual conference. Michelle is incredibly grateful for the support she has received from MiOTA, and looks forward to continuing to advance her knowledge and abilities in research, education, and advocacy to inspire authentic change.

---
Student Scholarship Process
The MiOTA annual scholarship ($500) will be awarded to one student per year. Application availability will start in late November with a deadline of mid-December and an announcement of scholarship recipient by the end of January.
In order to be considered for this scholarship you must exhibit leadership qualities, and demonstrate a commitment to the profession. The 2021 MiOTA Student Scholarship Committee included clinicians, a past MiOTA student scholarship winner, academic faculty members, OTs and OTAs.