MiOTA - Student Ambassadors
2021 Michigan Occupational Therapy Association Annual Fall Conference



Adaptability: Leading the Change



Thursday, September 30th - Saturday, October 2nd, 2021
Radisson Plaza Hotel & Suites
100 W Michigan Ave | Kalamazoo, MI 49007 | Phone: 269-343-3333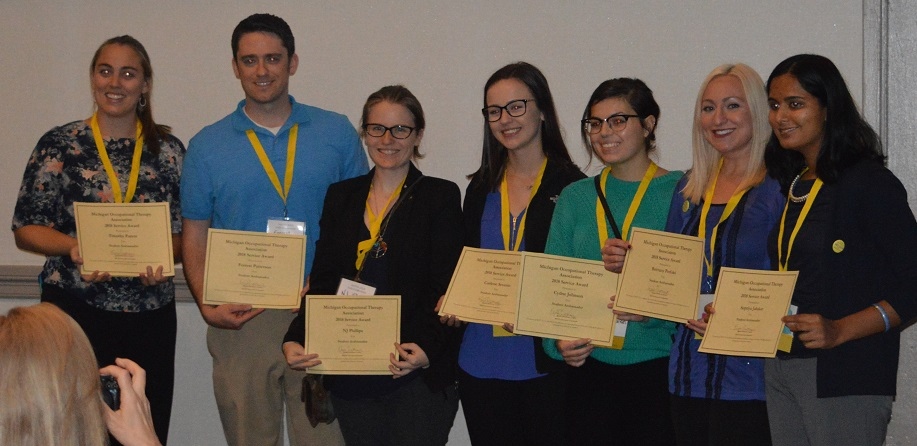 Occupational Therapy students are invited to submit an application to become a "Student Ambassadors" at this year's Annual Fall Conference which will be held September 30 to October 2, 2021. The conference will be held at the Radisson Plaza Hotel in Kalamazoo, Michigan. The conference this year is being planned for as a hybrid which will entail both face to face and virtual sessions.

The responsibilities of a student ambassador include:
Familiarity with virtual meeting platforms
Familiarity with projection equipment
Proctor virtual and / or face to face meeting sessions

Introduce speaker
Record session
Manage chat boxes
Remind participants to complete post session survey to receive certificate of attendance

Be available on Thursday, September 30th at 6:00 PM for an orientation meeting
Why should you apply to be a Student Ambassador?
Conference registration fee is waived for Student Ambassadors
Build resume for future employment due to leadership skills and volunteerism
You
MUST
be a member in good standing of MiOTA at the time you submit your application.
If you are interested in applying for this exciting opportunity please complete the on-line "Student Ambassador Application" by September 8, 2021
Information that will be asked of you in the on-line format includes:
Your name, address, phone number, email address, MiOTA member ID#, school you are attending
Areas of interest such as: General Topics: Pain/Human Trafficking/Diversity; Geriatrics / Home Health / Skilled Nursing; Pediatrics / Sensory Integration; Education; Psychosocial / Mental Health; Assistive Technology; Adult Rehabilitation / Hands
A short essay (250 words or less) on why you would like to be a student ambassador
A letter of recommendation from a faculty member or Program Director at your college

Please click here to submit your Student Ambassador application.
STUDENT AMBASSADOR APPLICATION DEADLINE:
September 8, 2021