MiOTA - Student Ambassadors


2020 Michigan Occupational Therapy Association Annual Fall Conference
Thursday, September 24th – Saturday, September 26th, 2020
Student Ambassadors Needed!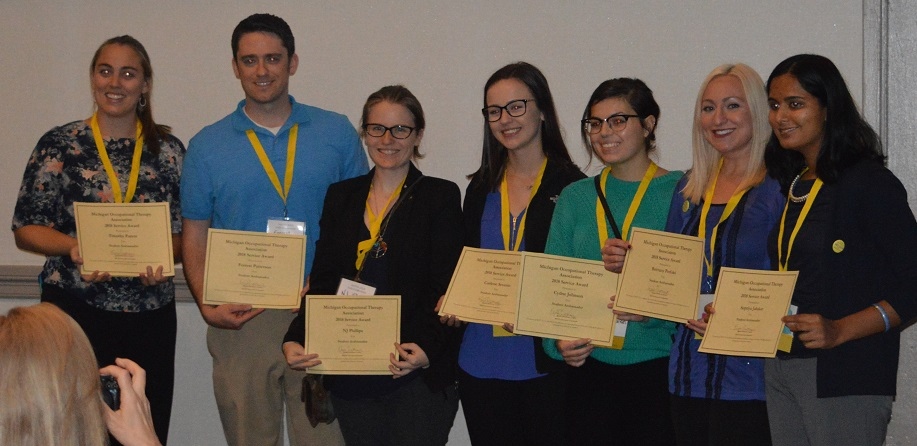 The MiOTA Conference Committee is offering an opportunity for nine students to serve as "Student Ambassadors" for this year's Annual Fall Conference, September 24th - 26th, 2020. The conference will be held at the Radisson Hotel in Kalamazoo, MI

If selected, you must be available on THURSDAY evening September 24th at 6:00 PM for a short orientation meeting. You must also be available throughout the entire two days of the conference. The orientation meeting will be held at the Radisson Hotel.

Your primary responsibility as a student ambassador will be:
Be available on Thursday, September 24th, 2020 at 6:00 PM for orientation
To convene specifically assigned sessions (job descriptions will be given out at the meeting)
Other duties may be assigned based on other conference activities
Why should you apply to be a Student Ambassador?
Conference registration fee is waived for Student Ambassadors
Lunch is provided both days of the conference
Network with occupational therapists and students from across Michigan
You MUST be a member in good standing of MiOTA at the time you submit your application. Other expenses, such as hotel costs, mileage, and meals will be at your own expense.

If you are interested in applying for this exciting opportunity, please complete the Student Ambassador Application and submit it along with a letter of recommendation from the Program Director or other faculty member in your program to:

MiOTA
124 W. Allegan, Suite 1900,
Lansing, MI 48933
Fax (517) 484-4442
website@miota.org
Application Due:
August 15th, 2020