MOTEC
Michigan Occupational Therapy Education Consortium (MOTEC) is a group of academic fieldwork coordinators, assistant fieldwork coordinators, and capstone coordinators from all of the OT and OTA programs in Michigan.
OT Programs:
Baker Center for Graduate Studies – Auburn Hills, MI
Concordia University Ann Arbor - Ann Arbor, MI
Davenport University - Grand Rapids, MI
Eastern Michigan University - Ypsilanti, MI
Grand Valley State University – Grand Rapids, MI
Saginaw Valley State University – Saginaw, MI
Wayne State University – Detroit, MI
Western Michigan University - Grand Rapids & Kalamazoo, MI
University of Michigan Flint - Flint, MI
OTA Programs:

Baker College Muskegon - Muskegon, MI
Baker College Owossso - Owosso, MI
Grand Rapids Community College - Grand Rapids, MI
Macomb Community College
Clinton Township, MI
Mott Community College - Flint, MI
Western Michigan University - Kalamazoo, MI

---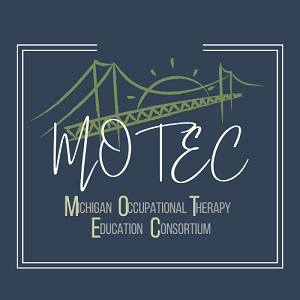 MOTEC Links:
MOTEC Members Contact List
MOTEC Fieldwork Educator Days

---
MOTEC Purpose:
Promote quality fieldwork and doctoral capstone education for all levels of occupational therapy students.
Maximize the number of qualified fieldwork and doctoral capstone sites to ensure that every occupational therapy student who wishes to complete fieldwork and capstone education within the state of Michigan has the opportunity to do so.
Encourage collaborative relationships among academic programs and fieldwork/capstone sites.
Foster a spirit of support and collegiality among academic fieldwork coordinators, capstone coordinators and academic programs.
Facilitate resources to increase quantity and consistent quality of fieldwork and capstone sites.
Provide a forum for collaborative problem solving of issues related to clinical education of occupational therapy students.
Ensure that clinical education for occupational therapy students reflects current practice.
Promote professional development of fieldwork educators and capstone site mentors.
Monitor, analyze and communicate the impact of trends on the occupational therapy clinical education.
Mission Statement:
To facilitate and sustain a strong and cohesive statewide partnership among academic programs, fieldwork educators and site mentors in Michigan in order to promote and enhance quality learning opportunities for all occupational therapy students.

Vision Statement:
Occupational therapy clinical education in Michigan cultivates practitioners of tomorrow who employ occupation-centered, evidence-based practice, embrace lifelong learning, and proactively address professional and societal needs.
---