MOTEC Educator Days
MOTEC Fieldwork & Capstone Educator Days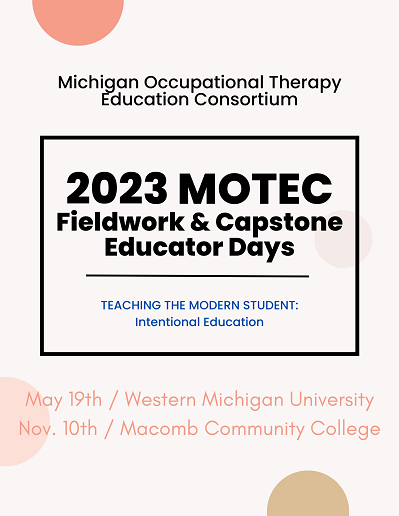 Every year MOTEC provides free Fieldwork & Capstone Educator Days events. These events are designed for fieldwork and capstone education coordinators, experienced fieldwork educators and capstone site mentors, and those who are new to or interested in becoming educators.
The purpose of MOTEC Fieldwork & Capstone Educator Days is to provide tools and resources to support best practice in experiential education and to share developments in Michigan occupational therapy programs. Participants can receive a up to six free contact hours of continuing education credit.
---
In 2023, MOTEC will be offering two in-person educator events:
May 19th, 2023 at Western Michigan University
November 10th, 2023 at Macomb Community College
View the 2023 MOTEC Flyer.
Online registration is now available! Register here!