MiOTA - Student Information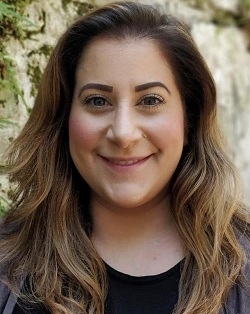 Congratulations to Nada Metti for earning the 2019 MiOTA Student Scholarship!


Nada is a Hybrid GVSU OT student. Along with MiOTA, Nada is a member of Omicron Delta Kappa- National Leadership Honor Society, AOTA, World Federation of Occupational Therapy. She serves as the student representative to GVSU's OT department curricular committee, is the president of the GVSU hybrid program's Student Occupational Therapy Association (SOTA), and serves on the student advisory board for Promoting Interprofessional Education for Students (PIPES). Nada has a passion for service learning and was previously GVSU's Service-learning committee co-chair, and has served the Michigan Ovarian Cancer Society, Community Organizing Advocacy Training (COAST).



Jurisprudence Examination is required for OT/OTA licensure
The Bureau of Professional Licensing - Licensing Division in the state of Michigan, requires occupational therapy a jurisprudence exam as part of the application for an OT/OTA license in the state of Michigan. A score of 75% or greater on the exam is required to pass. Effective June 1, 2017 licensure candidates must take the jurisprudence examination through PSI (www.psiexams.com). The jurisprudence exam is a closed book exam and examinees will be charged a administration fee of $95.95.
The Jurisprudence Examination covers information from two documents:
1. Michigan Public Health Code (Article 1, parts 11 and 12 and Article 15, parts 161 and 183)
2. Michigan Administrative Rules and Regulations for an OT/OTA
---
Resources to Help Students Secure Housing for Level II Fieldwork

Rotating Room - Aims to help healthcare students around the country find places to stay while doing away rotations and helps individuals with housing find healthcare students to sublet their rooms.

AirBnB - Student can search for short-term housing options and can specify search criteria to meet their needs whether that's renting an entire residence, a private room or a shared room.

CommunOT Student Forum - AOTA member only forum for students in search of level II fieldwork information.
---
Opportunities for OT Practitioners to Participate in Student Research!
Hello,
My name is Ashley Mills and I am part of a research team through the Doctor of Occupational Therapy program at Jacksonville University. I am reaching out to request your participation in our study.
The research project is called Investigation of Challenging Behaviors in Pediatric Occupational Therapy and is designed to probe your perceptions of the impact that a child demonstrating challenging behaviors has on therapy participation. To be eligible,you must be a licensed OT or OTA and over the age of 18.
Completing the online survey may take 20 minutes. No identifying information, including IP addresses, will be collected. The survey is anonymous and responses cannot be linked to you. If you agree to participate, click the link: https://jacksonvilleu.az1.qualtrics.com/jfe/form/SV_80v0erbGWrqzvE1
If you have any questions, you can email the research lead at sbrown38@ju.edu. Please feel free to forward this link to any eligible pediatric OT colleagues.
Thank you so much for your help!
---
Lyndsey Collette and Jennie Lacolla are currently enrolled in the masters of occupational therapy program at Salem State University, located in Salem Massachusetts. We are conducting exploratory research titled Understanding Autism Spectrum Disorder and Sleep: Is Sleep Being Addressed by Occupational Therapy Professionals in Pediatric Outpatient Clinics? The purpose of the study is to identify if occupational therapy professionals are addressing sleep participation for children with autism spectrum disorder in pediatric outpatient clinics. We are aiming for a cross sectional representation of occupational therapy professionals and the sleep interventions used throughout the United States. We would appreciate using the MIOTA as a means of recruiting participants. This study will consist of an online survey through SurveyMonkey consisting of demographic information, close ended likert scale questions and open-ended questions. This survey will take approximately 15-20 minutes to complete. Please complete the survey within 2 months.
Here is the link for survey monkey: https://www.surveymonkey.com/r/BWKHWHF.

---
My name is Dustin Pringle and an MOT student at Chatham University in Pittsburgh, PA. I am part of a group of Chatham University MOT students that are working on an evidence-based project about clinicians utilizing evidence-based practice. We are hoping to learn more about clinician experiences using evidence-based practice within their clinical careers. We would greatly appreciate your participation in this project! If you have any questions about this study please contact our faculty advisor, Dr. Sharon Novalis, at snovalis@chatham.edu.
The confidential survey will take approximately 10-15 minutes. Thank you for your participation and please feel free to share with other OT and OTA clinicians. The survey will close on 8/25/19.

Survey Link: https://chatham.az1.qualtrics.com/jfe/form/SV_cvdyBTbSOWkgsGV
---
Elinor Pastore and Daniel Ryan, doctoral students of Midwestern University, are conducting a research study on
OT practitioner's experiences with educating caregivers of stroke survivors
. If you are an OT who has at least one year of experience working with stroke patients and their caregivers in inpatient rehabilitation, please consider participating in their survey by August 23rd. The link to the survey is below. It should only take 5 minutes. Thank you in advance for your time and consideration!
https://redcap.midwestern.edu/surveys/?s=8ATTHLNPTP
---
Participate in a survey to help Post-Prof OTD student, Ryan Osal of Boston University, with his research study. The results of the survey will guide Ryan in creating an online case study self-study guide that OT practitioners can use in their clinical practice. This survey will ask about your practice setting, years of practice, and competency level on adult diabetes care based on the guideline of the American Association for Diabetes Educators. This survey will take about 15 minutes.
OTs:
https://bostonu.qualtrics.com/jfe/form/SV_02OpEH8S7Pan7GR
OTAs:
https://bostonu.qualtrics.com/jfe/form/SV_3Poj9mgjAJPKS9v
---
If you are an OT or OTA who works with clients affected by traumatic brain injury, please consider taking the time to fill out this short and anonymous survey for occupational therapy graduate students who are researching the use of evidence-based practice among OTs treating clients with TBI. If interested, click the link to learn more about participation:
https://umich.qualtrics.com/jfe/form/SV_bkAEUTQKMtF8tU1
---

Researchers at the University of Utah are looking for pediatric OT practitioners to complete a survey about suicide awareness. Contact Anne Kirby (anne.kirby@hsc.utah.edu) with questions, or follow this link for more information and to take the survey: http://j.mp/2GvQ8w3 (computer or tablet recommended). We will be holding drawings for five $50 Amazon gift cards.

Thanks for your help,
Jarrett Henderson
u6004740@utah.edu
---
---
If you're interested in recruiting participants for your research study by posting on this webpage and MiOTA's facebook page, please let us know by
clicking here
.
Updated 12/4/19